Boost Your Business With Digital Marketing – Proven Marketing Strategy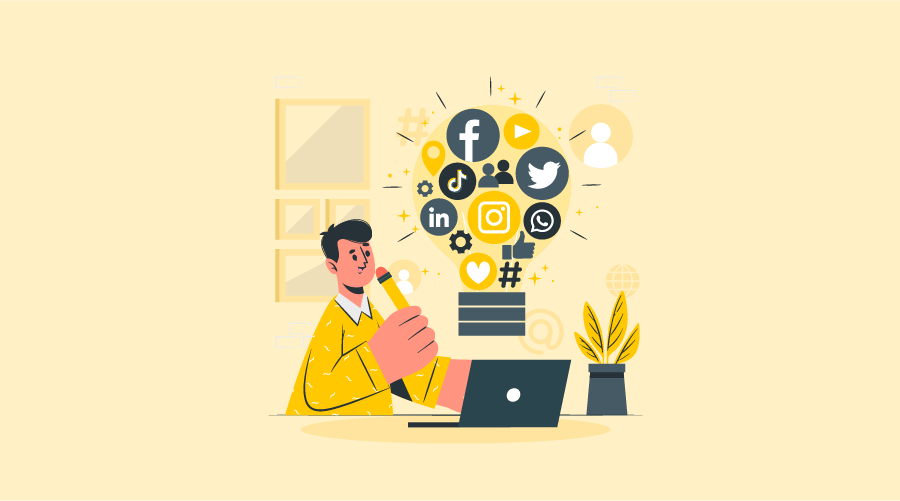 Since social media came into existence in the 20th century, several social networking sites have been developed. Due to the numerous benefits of using these platforms, businesses discovered that they can leverage the features for marketing purposes.
Social media marketing involves using social media platforms and websites to promote a brand's products and services. It is a form of digital marketing that uses the power of popular social networks to accomplish trade and branding goals.
Using social media helps increase brand awareness, improves conversion rates and SEO ranking, and boosts customer satisfaction and loyalty. This article covers the top four social media marketing channels and shares tips on choosing the right social media network for your business.
Top 4 social media channels for marketing in 2022
These are the best social media marketing platforms in 2022.
1. TikTok
TikTok is not a strange name in the business world. It is a video streaming sharing app that allows users to create and share videos on any topic they like. In addition, this platform provides users with a wide selection of sounds, songs, and voices that they can include in their videos.
The name 'TikTok' suggests the short format of the videos. This app was launched in 2016 by a Chinese company called ByteDance. In China, TikTok is known as Douyin.
Its growth in usage started in late 2017 when the company bought Musical.ly (a rival app) and acquired its 200 million-plus accounts. TikTok is exceptionally popular among younger audiences ― the Millennials and Gen Z.
The app is famous for its addictive nature. Research shows that TikTok users spend over 850 minutes monthly on the app.
TikTok recently created a platform for businesses to use the app for their social media marketing. It is known as TikTok for Business. With 1 billion active users as of January 2022,, TikTok is an excellent channels to showcase your brand.
TikTok marketing includes various tactics such as influencer marketing, creating organic content, and TikTok advertising. Marketing a business on TikTok helps increase brand awareness, sell products and services, provide customer service, engage with target audiences, etc.
There are many features on TikTok to use in a marketing strategy. One of such is TikTok Live. UNUM's guide to going Live on TikTok explains the process step by step, making it easier for companies to use this element.
2. Facebook
If you have probably not heard about TikTok, Facebook will be a more familiar name. This is the biggest social media platform in the world today. Facebook is a social networking site that makes it easy to connect and share with family and friends online.
Facebook was created in 2004. Its founders, Mark Zuckerberg, Eduardo Saverin, Dustin Moskovitz, and Chris Hughes, were Harvard students at the time and designed the social networking site for college students. By 2006, anyone over 13 could open a Facebook account.
If your business's target audience is relatively older, Facebook might be your go-to social media marketing channels for marketing your products and services. Facebook's largest audience is between the ages of 25 and 34, and only about 26.4% of the network's users are Millennials.
Facebook marketing is a highly effective platform that offers businesses and marketers targeted paid ads and organic posts. This allows a brand to put its products or services before the massive audience on Facebook.
Due to the various marketing features that Facebook for business offers, it has gradually shifted from being the most prominent social media network to one of the biggest marketplaces. Marketing with Facebook comes with several benefits for your business. For instance, you can reach the precise audience you have in mind for your products with targeted ads.
Also, marketing on Facebook increases website traffic, positively impacting your search engine optimization. Also, because of the variety of ad formats, such as text and visuals, you can show products from all angles.
3. Instagram
Instagram is a free photo and video sharing app available on iPhone and Android devices. Users upload photos and videos on the network/app and share them with their followers. Also, users of the social network can view, comment, and like posts as a form of engagement.
Many businesses use Instagram because it requires no fee to access the service. Kevin Systrom launched the platform in 2010. But in 2012, it was bought by Meta Platforms. Inc., formerly known as Facebook, Inc.
On Instagram, you can share pictures and videos about your products and services and include a well-thought-out caption, encouraging followers to engage with your posts. Also, you can post teasers on your story, a feature that deletes pictures and videos after 24 hours.
Other features on Instagram that can improve your marketing are Reels, IG Live, and promotions. The latter refers to paid adverts that help you reach a wider audience, particularly those who aren't following you.
Finally, Instagram helps you monitor your activity and view page insights. With this, you can determine which content resonates best with your audience and which doesn't.
4. Twitter
On the 21st of March, 2006, Twitter arose like a phoenix from the ashes of another startup called Odeo. Evan Williams, Biz Stone, and Noah Glass were the founders of Odeo, a podcasting company. But when Apple announced it wanted to introduce podcasts to its services, Odeo's leadership felt they couldn't compete with Apple.
Upon asking their employees for ideas or side projects, Jack Dorsey proposed a short message service where users can send small blog-like updates to friends. In July 2006, the completed version of Twitter debuted and has since risen among the top social media channels worldwide.
Twitter is a microblogging, online news, and social networking site where users can communicate in short messages popularly known as 'Tweets.' People post these short notifications hoping that their words are exciting and valuable to their audience.
As a business owner, if you do not already have a Twitter account, open one as soon as possible. But, if you have an existing Twitter profile, the first thing you'll want to do is run a Twitter audit. This helps you take stock of what is working and what isn't.
Running an audit will also help you improve your social media marketing strategy. For example, Twitter provides marketers with analytics tools that help analyze hashtag performance, individual Tweet performance, and individual Twitter audience.
You can also use paid ads on Twitter, hashtags, and trends to create marketing content. Additionally, direct messaging on Twitter allows you to connect with your audience.
Tips for choosing social media channels for your business
Social media remains an outlet for you to showcase your business to a vast audience. However, not every social media platform is right for you, and it can be challenging to choose the suitable one. However, these guidelines simplify the choice.
1. Know your audience
To a large extent, your audience determines most of your business decisions. Your audience is the group of people your business targets. They are the people you focus your marketing, advertising, sales, etc., efforts on.
The primary goal of every company is to reach its audience. Therefore, you need to choose a platform your prospects and customers frequent. For instance, if your target audience regularly uses Instagram rather than Facebook, use Instagram.
2. Understand the nature of your brand
Different social media channels work best for different types of brands. The kind of business you conduct can also determine the social media platform to use. Remember that using the wrong network can be harmful to your company.
The nature of your brand includes the services, products, etc., offered and the identity. Some social media platforms are better for showing off your business than others. So carefully select the channel that works well with your company.
3. Focus on your social media marketing goals
Why do you want your brand on social media? What do you hope to achieve? These are your goals for taking your business to social media, and you must always have them in mind.
Your objective could be increasing brand awareness or boosting engagements. Therefore, choose the network that helps you meet these goals. For example, apps like Instagram, Twitter, etc., can be perfect for increasing engagement compared to LinkedIn or Snapchat.
4. Keep available resources in mind
Your competitors could also be a guide to the best social media platforms for your business. You can take a cue from the channels other brands like yours use. Ensure that the research you carry out is as comprehensive as possible.
Look at the social media your competitors use and the ones they avoid. Then, determine how effective each platform is. It would help to look at how engaged their audience is on each platform and discover what social media mistakes to avoid.
However, do not base your final decision on these findings. It is simply beneficial to know and understand what others in your field are doing.
Conclusion
There are many social media channels, and it can seem challenging to select which ones are best for your brand. But with this article, you have found out about the top social media marketing channels in 2022.
Also, with the tips on choosing the right social networking site for your brand, you are a step closer to recording massive success in your social media marketing for 2022.