Social Media For Business: Know How To Build Positive Brand Image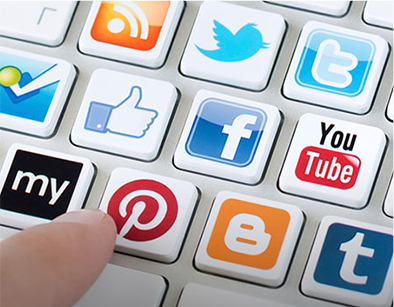 The increased popularity of the internet has influenced many new inventions. With the invention of smartphones and other smart devices, it has been established that the internet will be the governing entity for next years. Hence, the software development has also seen changes and now there are mobile applications and websites being developed which work excellently with a good internet connection. Therefore, the amount of people using the internet in one way or another has been increasing drastically and for that social media for business is the best source to build a positive brand image across the globe digitally.
why social media is important for business
Well, it has raised a million dollar opportunity for business professionals. As more than 4 billion of the world's total population uses the internet daily, there is a golden chance right there to market themselves online. Also, if you want to engage with people than why not use the platforms dedicated to connecting people with each other from all the corners of the globe? Yes, Social Media!! It has been getting popular among users as it enables users to communicate with each other all across the world. All these platforms can connect you directly to your customers and your target audience in a snap!! The upcoming era is totally dependent on technology and as the internet is the most essential part of it, social media has got many years still in its sack as all users are going gaga over it!!
How to use social media for business promotion
Wondering how to use a platform dedicated for fun as your weapon for marketing?? It is not as tough as you think it is. Instead, being an interesting tool to work on, social media always keeps you entertained even when you are performing your task of marketing. With the policies of these platforms specifically designed for promoting any businesses online, you can easily start marketing yourself online and connect to your customers and help them identify who is the best in business!!
However, before starting working on your social media marketing, you have to steer clear of the myths being followed around each and every platform. Let us face it. Not all social media platform work in a similar fashion. They are helpful in communicating and increasing your outreach but the audience using social media, on the other hand, matters the most. Some of these platforms are dedicated to sharing pictures and video templates only. For example, Pinterest. Hence, the audience using this platform will be more interested in the attractiveness of the pins that you post daily on this handle. Hence, using social media for business promotion is not a piece of cake for everyone.
You have to understand the type of users that each platform has. According to that, you have to plan your next action and posts that engage the users to their core. Below an overview is given for each platform's user base and their unique environment created.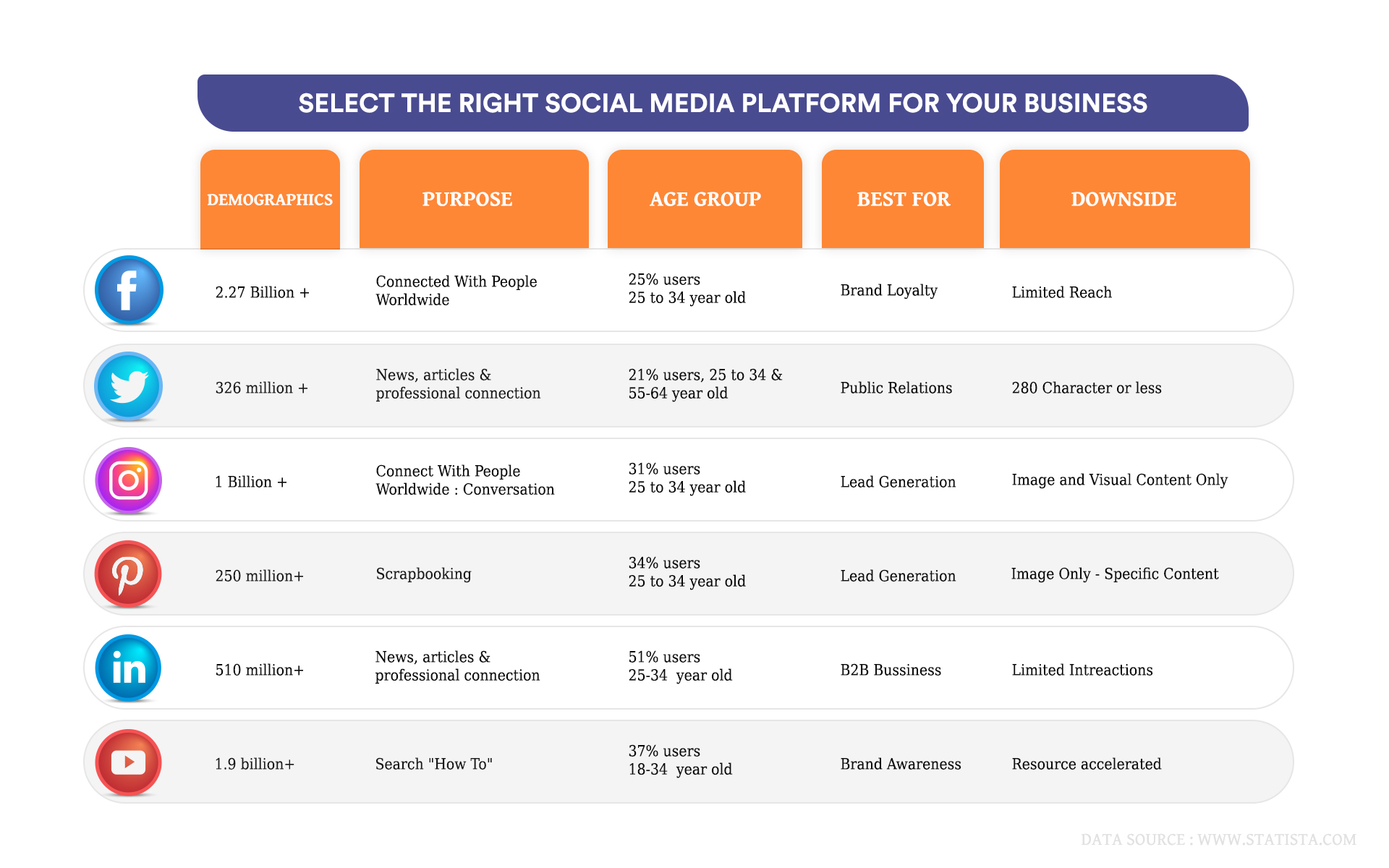 facebook Demographics

Being the most popular social media platform, Facebook has more than 2.27 Billion users worldwide. Therefore, to create the personality of your business, which contains all the positive things that you have to say about it, this platform is the best to start with.

As Facebook serves the purpose of interaction between people and is more dedicated to spreading fun and joy, the posts that you craft must be meant for spreading happiness among them. Rather than continuing marketing of your own brand, you must focus on entertaining your "friends" and "followers" more so that they start feeling an attachment with your purpose. Once you are familiar with this, make sure you are across all the Facebook metrics and how they are calculated.

Twitter Demographics

Twitter has its user base extended to 326 million users and still increasing. With the unique concept of limiting the word count up to 280 characters, Twitter is more popular among bloggers and is more entertaining though.

Mainly dedicated to encouraging interactions between people, Twitter can be proven as an excellent platform for increasing the interaction with your customers. As the customers can post positive and negative reviews on your products or services, you must maintain an active presence on this platform and by providing satisfactory reactions to each of these reviews or queries of your customers, you can build your positive and trustworthy image among the users and can influence more users to start availing your services or products.

pinterest Demographics

Pinterest is a visually-based platform that lets the users post an image or a video on their bulletin board and the viewers can see and save the pin posted to their own pinboards. The main subjects here are food, beauty, fashion, exercise, and photography skills. Having the user count of 250 million and still increasing, it is essential to introduce your business on Pinterest.

If your business falls in any of these categories, you can make use of this platform efficiently to increase your user base. However, if it doesn't, there is nothing to worry about. Any type of business can get popular on Pinterest but the businesses of following categories have got a better chance at marketing through this platform. An attractive concept for creating videos or eye-catchy images can help you win the race to your customers' hearts. However, the fact to consider here is that Pinterest has a majority of women as their users. See if this helps!!

youtube Demographics

Youtube is the most used platform with more than 2 billion users. It has the second most visited platform as a search engine after Google. Moreover, it is the most visited website after Google and Facebook. A business can take full advantage of this platform by educating, entertaining, and answering their problems in the form of videos. One more thing to consider is you can find all the types of audiences.

Videos are the most acceptable form of content that can gather a massive number of audiences and interact. If you manage to do that, you will have a higher probability of being found on the top pages of Google. Appropriate video length, valuable content, consistency all can create a positive impact on Youtube. Moreover, you can find anything on Youtube that helps your business, such as sources, competitors, and supporters.

linkedin Demographics

A platform dedicated to professionals, LinkedIn being not-so-popular as a social media platform, still has 510 million users in its sack. A network that can establish you as an industry professional, you can achieve more professional clients and improve your employee base by posting vacancy posts too.

As a part of the industry, you must be knowing some of the fundamentals and also possessing some knowledge that you have gained from your personal experiences. Hence, being the part of the professional group and posting relevant content regularly that can influence others can establish you as an industry leader and help you in earning more recommendations from professionals and hence help you influence more users.

instagram Demographics

Instagram has 1 billion users and is still expecting a dramatic increase. With the facility of chatting and posting short videos and images on this platform, the new generation is all set to make use of it more than once in a single day.

Having fantastic features like Instagram live, posting stories and posting videos and images on it, Instagram is providing advanced support for advertising online. Hence, owning an Instagram handle is a must. Since the users need a real-world proof of your services being better among others, you can spread your positive vibes if you possess good photography skills.

Google+ Demographics

Developed to give competition to Facebook, Google+ has now shifted its focus on the totally different level. With 200 million users in its account, Google+ comes with a benefit of having Google's best-known advertising supporting policies and hence can be used as an efficient platform as well.

Having a good reputation and vast follower base on Google+ aids in increasing your ranking in search results of Google. Being directly linked to Google, it also supports multiple causes at once. For example, this platform allows you to create a group among your selected followers and you can share certain information with this group while other followers not included in this group cannot get the info of it.
Benefits of social media for business
There are many benefits to discuss when you introduce your business on Social Media platforms. However, here a few crucial factors have been discussed which are the primary areas that bear fruits of social media.
Earning Recognition and Increased Traffic

As social media helps in improving your outreach to your target audience, you can meet new users and your aspirant customers and know their demands and expectations from you. Fulfilling which you can turn them into your regular customers and all-time marketing executives!! As the person buying anything online looks for real-world proof or recognition from other buyers who possess the experience of buying the product before, these customers can influence others, buyers, too. Also, embedding your posts with your landing page URL can influence your customers to visit your website and you can increase the visitors of your website.

Increased Brand Visibility

What if you furnish your customers with world-class services but none other than them are aware of it? Or, what if you want to expand your business to another level and start addressing clients from across the world? In both of the situations, you are required to take steps that can establish your own identity in the market and after that, you can start contacting your target audience and try to convert them into your customers. Hence, social media comes at rescue and helps in accomplishing this task with smart efforts.

PS: You can go with a branding agency and best web design services provider for get better outcome.

Customer Care Services

Having bought the product or availed the services of yours, many customers are confused about the uses and the very common "How-to" situations are raised. However, if you own a social media handle that the customers are aware of, they can raise a query about the uses or ask for a tutorial of using the product. Providing a satisfactory answer to them within a short duration of time helps in building trustworthiness of your business. Having social media as your backbone is like owning a double-edged sword. If your customers raise any query that can affect your brand's image in a negative way, avoiding it will not solve the problem!! Yes, do not avoid any queries or comments. Rather furnish them with the answer that can assure them the recovery and can also build your positive image.

Expand Globally

As social media connects people from all the corners of the earth, you can expand your reach to your potential customers even living in a different continent. With regular updates regarding the launches of new products, reposting positive reviews of customers on your account and appreciating their efforts, answering all queries and introducing attractive discounts and offers through this medium can help you build trust of those clients that live far away from you and can help you reach them with the brand image of yours.

Keep an Eye on Competitors

Have you ever wondered why your competitor is earning more users through social media even when you are also trying so hard too?? Well, the answer relies upon the strategy that they follow. Hence, tracking the activities of your competitors can be a boon for you. You can derive what particular strategy has worked wonders for them and hence you can follow a similar path but in a much better way. Isn't all fair in love and war?? However, you must not adopt the whole approach and in the near future plan a new strategy that suits you the best.
How to generate leads from social media
As social media helps your business in a wholesome way, the primary focus would be on influencing more users to buy your products. Hence, lead generation through social media platforms is an essential concern. What is the meaning of having an attractive website if no users are interested in visiting it? Therefore, to promote your website among people and to make them visit it again and again, you must take all the necessary steps and follow the guidelines for increasing lead collection through social media.
Exclusive Content

Your posts on social media must be food for the eyes of viewers. As the new trend in the market is of "viral" content, you may be interested in getting even one post viral too and attract more customers through it. However, the post being viral must be promoting you positively and if not, that can be disastrous. Hence, the content of your post matters. For example, if you are promoting yourself on Instagram or Pinterest, where pictures matter the most, the images being posted must be of good quality and they must not raise any copyright controversies. Hence, the content is required to be excellent in quality and it must be innovative as well. You can also use a QR code generator to create a scannable code that leads customers directly to your social media page or website, making it easier for them to engage with your content.

Active Participation

When we talk about the presence on Twitter, it is the hub for online community forums that inspire discussions on topics. Hence, take part in these discussion groups that are relevant to your business domain. It will benefit you in two ways:

Second, the content that you post every day is innovative and tempting enough to get few of them interested in your business profile. However, remember not to promote your products too much and the content of your post should be able to work its charm on readers to visit your profile once and there just add the link your website and you have visitors for your websites collected from a single platform!!

First, It will establish your image as an industry leader who is knowledgable and many users may start following your account too. Voila! You have earned some followers who are interested in your business mind and hence can be perceived for buying the products. Therefore, you have some information on your target audience.

Embed the Link

Whenever you post anything on any social media platform, the hashtags have taken place in all and by including appropriate hashtags in the post you can increase the visibility of the post in front of the target audience. Hence, your posts are going to be displayed in front of your target audience and by including the landing page link in that post, you can influence them to visit your landing page from that post. Create content worth referencing and influence more users to visit your profile even once.
Benefits of Social Media for business content creation and distribution
There is a very thin line between social media marketing and content marketing on social media. As the content creation is an extensive part of it, it stands for a necessary reason to get yourself excelled at. Basically, what content marketing includes is sharing of your posts on social media firstly through you and then by other viewers. The question arises, how does it help? Well, maximized views means increased traffic on your post which can lead to increased traffic on your website and hence can convert into more promising leads.
However, to get such a post, the first and foremost requirement is to exclude copy content in your post. The content should be exclusive and at the same time attractive enough for viewers to get inspired from and hence they will share the post on their handles and will provide you an opportunity of displaying yourself on their too!!
How to use social media for business insights
Being discussed as an interactive platform to attract customers from, social media has gained many points that can prove it to be an efficient tool for promoting the business online. But how can we use social media to gain business insights? How can it be used to derive the next actions or how it helps in plotting next strategy?
Reputation Management

The answer is through customer reviews. Yes, with the increasing use of the internet, people have started using social media every day. Hence, if they find anything exciting or anything worth complaining of, they post it immediately on their social media handles. These posts can include positive reviews and appreciative comments on your posts or queries regarding any of your policies or products that you sell or worst, it can be a complaint not handled with care!! Your online reputation matters the most because it helps you in deriving more customers through your positive image on social media platforms.

Monitor Relevant Content

Therefore, you need to follow and keep yourself updated about each and every activity being posted or being carried out by the users of social media. But how can you keep an eye on all? Really simple answer: Hashtags. Whenever anyone posts anything regarding your company or your product, they will certainly add a hashtag at the end. This hashtag will be relevant to your product or may be created specifically to identify yourself. Also, these platforms have certain policies dedicated to enabling you to keep track of the users that interact with your posts. Hence, you can monitor the activities going on.

Competitor Analysis

However, it can help you in deriving the strategies that your competitors use. You can follow their posts and other conversations through it and also can understand the policies that they follow or keep an eye on their new products being launched. With the ability to understand the competitor's strategies you can plan a better strategy that works in your favor and can help you gain more customers.

Learn and Follow

Once you successfully plot your brand image online, you will start receiving queries and reviews from your customers through the interactive platforms of social media. From those conversations, you can get the knowledge of the products that are bestsellers for you and also about the negative points that customers find in your products. By assuring them the recovery and making changes accordingly will help you win their trust and will establish you as a loyal and trust-worthy brand among all competitors. Hence, you can understand the positive and negative nerves of yours through it.
Advantage of social media for business advertising
Easy Retargeting

Retargeting is an interesting concept in advertising. When any user interacts with your product page and leaves from it, you can track and target that user through your advertisement of the relevant product that the user has viewed previously on your product page. Now with the help of social media platforms, you can display the advertisements in front of the interested users and can convert the lead into your customer.

Hence, social media contains a lot to give to their users, be it entertainment, fun, conversation facility or even a platform for promoting yourself online. To reap the fruits of social media, you must be aware of the techniques and policies that help you in achieving your target audience on social media. With the changing trends, you need to keep yourself updated and you should start considering the use of social media. Wish you a Happy Marketing!!

Image Source: Statistica

Low-Cost Advertising

Social media is used for promoting your brand online. However, owning an account only is not enough. You require extended support of advertisements too. Promoting your products on social media through sponsored advertisements is a good way of increasing your visibility. However, advertising on different platforms other than social media is expensive while social media platforms offer advertising opportunity at lower prices and hence can help you increase your visibility by advertising your products in front of your target audience. A survey conducted by Statista supports the facts. Hence you can advertise on social media with spending less on advertising.
Create Content That Makes Sense: It is important to learn how to use social media platforms and aligned tools to market a post/product right.
But what is being marketed plays an equally important role. Create graphics that make a statement. Create posts that outshine your competitors.
Create images with these free gold background textures.