Understand Google Merchant Center That Can Benefit Your Business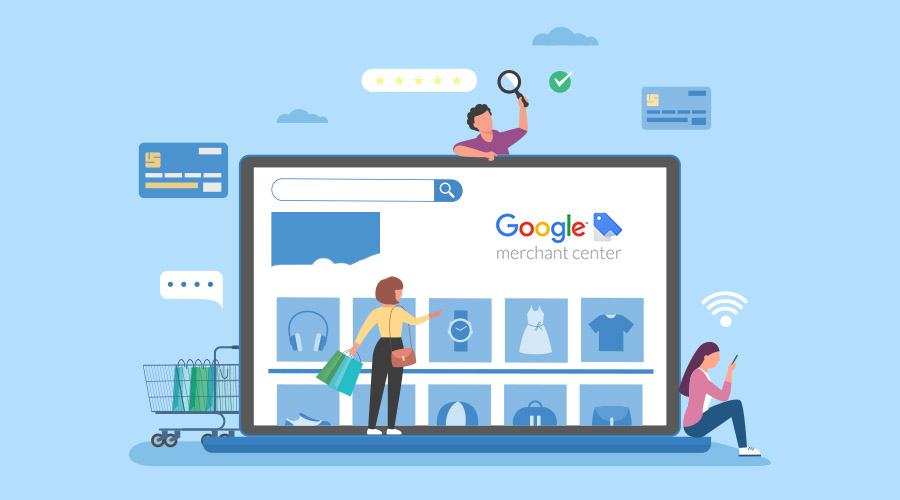 Starting up a new online store doesn't necessarily work for everyone. Just building an online store is not enough. There are abundant choices present that you have to compete with. A business has to make significant efforts to drive viewers to your store. One of the significant steps an online shopping store has to make is towards Google. Google has introduced several platforms like Google Merchant Center, Google My Business, Google Ads, etc., catering to business needs through the Google search engine.
It is a no-denying fact that Google has the most searches. In a day, there are 5.6 billion Google searches per day globally. Approximately a person makes around 3-4 searches per day. Talking specifically of online shopping, people use it to search for their interests and requirements. In that, Google allows a business to specify their brands and products in the Google search bar.
With the help of Google Merchant Center, any business can enlist their products on Google. The following article will explore how a business can use this platform to attract more potential buyers. Let us know first what the GMC platform is.
What is Google Merchant Center Intent to Build for?
Merchant Center is Google's online platform where every business can upload all their products with necessary details, which will be shown up while Google searches. It is a marketplace where searchers or buyers will get aware of your store's products. It is not a store where you can sell your products. Instead, it is a menu card where you can showcase your product listings.
GMC allows two ways to use this platform :
Paid Service – It allows distribution of your product listings in all the possible Google platforms. A business can give you various options for advertisements.
No-cost Service – It shows your product lists on the shopping, images, and search tabs.
While uploading the product list, including all the required data, add images, prices, and offerings, that users expect to see while searching. GMC also merges with other platforms like Google My Business to control marketing and online store appearances.
What are the Steps to Start Google Merchant Center?
To register and set up a store's product index in GMC, you have to follow specific procedures.

You should have a Google account to register on the platform. Although you can have multiple logins.
Read all the guidelines of Google Merchant Center to avoid any issues in the process.
In the GMC, start with entering the information of your business which includes the store's address, contact details, about the store, website, check-out information, and a few others.
Then make a product list of your store or directly add the product's data file.
Upgrade the product lists if necessary with the latest details that your store is currently having.
How does your business benefit from it?
Google Merchant Center is built for various benefits for the e-commerce world and all ranges of business.
Build Huge Audience
It is a bridge between a brand and buyers, where stores can serve their items on the most famous platforms, and buyers can explore various details conveniently.
Provides Analytical Reports
GMC center gathers various data that helps a business to enhance their performance on Google. A business can use the report to intact its position on making several changes based on the reports.
Have Investment Options
A business can apply for free services provided by GMC. However, for effective use of the platform, they also choose the paid plan.
The platform is for Everyone
The medium is for all sizes of business, whether small or big, despite the products it wishes to sell. It also doesn't matter whether you are a famous brand or not; you could be positioned with the topmost names.
Also Read: How To Setup Facebook Bussiness Account
Use the Data Derived from Google Merchant Center Efficiently.
Merchant Center has a lot of things for your business to amplify your online presence. A business can use the following tactics that assist them in doing wonders in the highly competitive platform.
For instance, you can add all top brands to your location in GMC, and you can do this with any location. However, you can also use data about the location of local e-retailers who make the slightest effort to attract buyers. You can grab that space offering unique services in that location. The data can also be used in Google My Business schemes to promote your store for higher positions in the search list.

As online shopping stores are working to rank in the local search engine, they can analyze user's activities and behavior and then optimize their conversion rate for the users who landed through the location.
Expand Your Business with the Help of Google's Platforms
An online business can connect to various other platforms like Google Ads, Google My Business that will enhance their performance in the search engines. It will help them manage their marketing and advertising activities efficiently to give out effective results.
About which you might be aware, Google Shopping is a platform for buyers to compare the brands. It is attached to Google's search pages and shows the result to the viewers related to the keywords entered. A store can use both GMC and GMB to raise the customer's visit.
Google Ads is also a helpful tool to work with Google Merchant Center to increase the sales rate. After you upload the item list, you can use Google Ads to advertise your products through shopping ads. Shopping ads work like pay-per-click advertisements. It is to improve the presence of Google.
Final thoughts
Online shopping stores nowadays see abundant competition despite the type and size of the business. Google Merchant Center aims to enhance your online presence via product listing. It allows you to gather analytical data to upgrade and perform several tasks to get excellent results. You can take the help of several tactics to reach the top positions on the search engine, winning all local SEO operations. Understand the blog and implement this to boost your online presence.