Email Marketing Tips: Execute Them and Prevent Churn Rate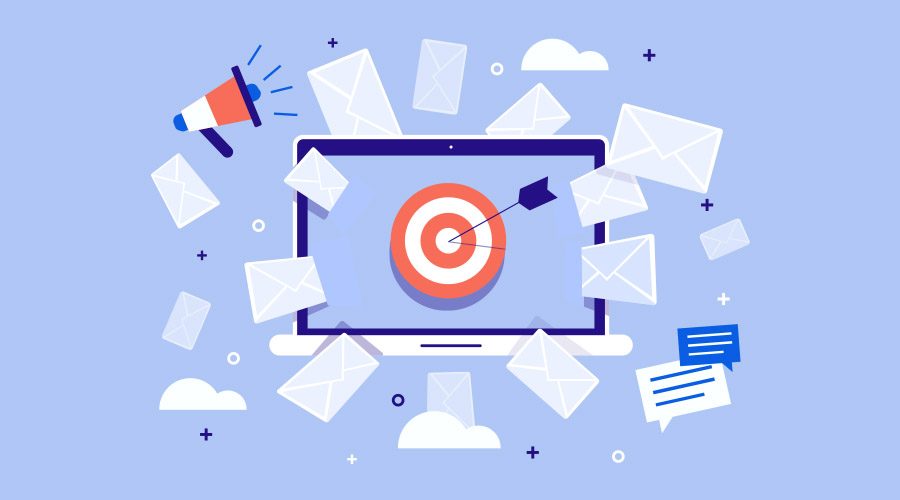 Are you a Small Business Owner? Want to establish your own market by just investing a very small amount of money. This article exclusively focuses on marketing strategies via Email for small growing businesses. To proceed further, you need to ask yourself if you want to make high profits by just investing a few dollars and a few hours of your day.
Small businesses are losing many opportunities by ignoring this, but have a lot of potential to gain profits. Nowadays a general mindset is that social media has altered the ways of digital marketing but this is just an illusion.
What is Email Marketing?
As the name suggests, email marketing refers to a process of conducting marketing via Email. But this is not the exact definition,it's all about building trust and relationships with customers.
More than 64% of small businesses are using email marketing techniques. Whether you are an owner of an online shop, or a blog owner, or a small business website, email acts as a primitive tool to retain your current customer base and is a highly productive way to convert new visitors into customers. As a small business, you can build your market by developing trust within local customers.
Email Marketing Tips for Better Performing Campaigns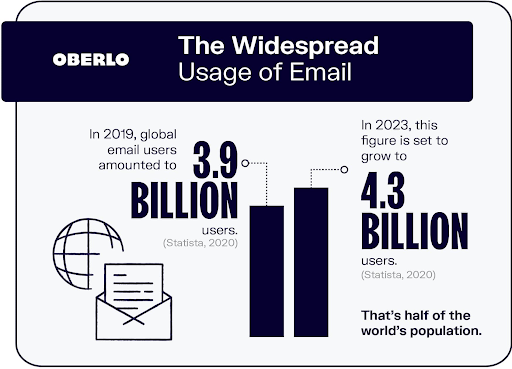 Source: (Oberlo)
Despite the fact that sending email is quite evergreen, the best ways to implement practices also change over time. However, to save time and money, brands can also opt for email automation as it gives real-time insights into users' behavior. The below guide offers proven email marketing tips based on recent research and internet marketing trends.
To benefit Small Business owners with email management tools you should try the following tips mentioned below.
Budget-Friendly Technique
For small businesses, cash flowing out is very frequent, and flowing in is a very rare instance.
With the help of email marketing, you are not required to put an extra burden on your pockets. However, without investing a single penny you can create and design email formats and send them to create a customer base.
There are many pocket-friendly email marketing tools available which you can use by spending some amount of money.
Reliability
To make Small businesses grow this type of marketing makes sense because this will never fail – other strategies may fail. This marketing technique is highly reliable as it is not affected by changes in the algorithm and shows immediate effects. For performing consistently in the market, you can always use this technique as the solid step to stand upon.
High yielding performance
As a small business owner, you can't afford to take risks. If you have invested all your savings to establish the company then why to opt for a marketing strategy that is not result-oriented?
Tremendous Returns
This will be an understatement that email marketing performs well. Instead, emails perform far better than expected. In fact, according to the research, a return on Investment is massive in terms of capital.
Effective design of an Email template
Being a small business owner, you are always in need of these three resources.
You need to strategize effectively to use all three resources simultaneously and effectively and make the maximum productivity using them.
Optimizing emails for Mobile devices
According to the research, around 88% of total emails received are read on mobile phones and this percentage is expected to reach above 50%. Around 40% of small business owners do not even consider the point on focussing separate emails for mobile devices.
So, before executing this tip on optimizing email for mobile devices you need to test the dummy email by opening it on multiple mobile devices for checking out proper orientation.
Improve customer retention via consistent followup
To grow a small business you need to maintain a consistent schedule of your email marketing strategies and alter them frequently with the changing trend of the market, to convert leads into the customer base.
Provide them with the information they wish to know in the email
To attract the leads and convert them into customers you need to initiate a conversation by just providing the services according to the customer requirements. You need to design a strategy by matching the tone and interest of the customer.
Gain the new customers base via online content
In the content of the email, you need to design the template in a way that the recipient can read everything they wish to know about in the email content only. The lead should leave the email to procure products on your website and end up being your customer.
Improve sales via the customer loyalty program
For a small business to grow you need to follow a strategy for the retention of loyal customers by providing special offers or services to hold their trust in your business.
Promotion of new products and services via email
To convert leads into customers, you need to design an email mentioning all the features of the new products and new services offered. The data should be precise and to the point and should with the time invested by the reader.
Focus on what your customers like and dislike
For the proper updating of the email template with the new market trend, you need to consider the feedback provided by the customer as well as the data analytics for altering the new email templates while designing the new strategies.
Maintain a balance between promotional and nurturing emails
You need to form a balance between promotional emails and nurturing emails. In fact, marketers often overlook this funda as it is one of the digital marketing mistakes to avoid. They need to understand the thin line between promotional mails and nurturing emails. Promotional emails are exclusively focussed on the new leads and attract them to get them converted into leads whereas nurturing emails are the emails designed purposely for retention of the old customer base by giving them offers and discounts.
Make it personal
Always design a welcome email templates with a gesture of greeting the customer with the personal name or unique data. This generates the interest of the customer in reading the email and hence helps in creating an own customer base.
Use Email Marketing Tips to Achieve Your Goals
Marketing through email is a highly effective and efficient way to gain global customers. It might require some time to expertise but once you master this marketing tool you can gain a lot of customer base. Start implementing these tips and benefit your small business by making self-existence in the market. We have explained here multiple tips to benefit small businesses via email marketing for your knowledge. If any of them worked for you, do not hesitate to leave some feedback by commenting in the section below.